FortiSalt®
FortiSalt is designed to nutritionally fortify food anywhere salt is desired. Refined salt and even some sea salts are ultra-processed and can be treated with unwanted chemicals (i.e., bleach to ensure uniform color). Unlike refined salt, sea salts or even salts marketed for their trace mineral content, FortiSalt is designed to add broad-spectrum essential minerals and trace elements in nutritionally significant amounts through food.Using FortiSalt will significantly fortify your food with magnesium, potassium, every essential trace mineral (except iron) and make food taste like it should.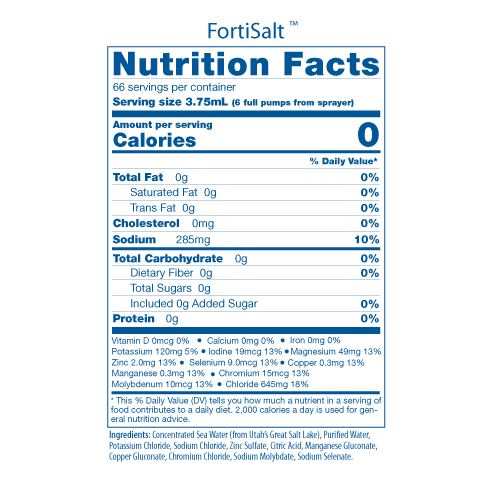 Features/Benefits
• Winner of the 2011, 2012 and 2015 Superior Taste Award by the International Taste & Quality Institute
• Cut added salt in recipes more than 50% while maintaining a rich, gourmet flavor.
• A good source of 10 essential minerals
• To truly understand how FortiSalt tastes on food, we like to say that FortiSalt doesn't necessarily taste like a better salt, but more like salt added to better food.
• The sea mineral concentrates in FortiSalt are Generally Recognized as Safe
• Complies with the U.S. FCC's heavy metals safety standard.
• Provides mineral nutrition in a ways natural to the digestive system
• FortiSalt is all-natural, vegetarian, vegan and gluten-free.By cooking and baking with FortiSalt, it enriches the flavor of your cooking and favorite recipes. FortiSalt, available in the kitchen-size bottle has a flip-top cap, so you can easily measure, pour and use FortiSalt in your cooking. You can even use FortiSalt in your favorite canning recipes. The one limitation to how FortiSalt can be used, though, is that the high magnesium and mineral content of FortiSalt will affect the viability of yeast, which when making leavened breads, will cause bread not to rise. Therefore, you will want to avoid using FortiSalt when making leavened breads.
*This statement has not been evaluated by the U.S. Food and Drug Administration. This product is not intended to diagnose, treat, cure, or prevent any disease.
If you are under the care of a physician or taking prescription medication, consult your physician first before taking this or any dietary supplement.