Family Owned and Operated for Three Generations
In an industry dominated by conglomerates and big businesses, the fact that MRI is a family-owned and operated business (well into its third generation) is a source of pride for us.  Why? At MRI, the Anderson family can take the long-term view. Our mission is to improve global well-being through mineral nutrition. That means we don't take any shortcuts in concentrating and harvesting the minerals. Our minerals are made with all-natural, solar concentration. While these methods may be more "difficult," "time-consuming," by some standards, the result is what the family believes to be the finest all-natural mineral and trace element product crafted by nature that truly captures the essence of "all natural" in a way that other mineral products and ingredients can't come close to touching.
Hartley Anderson (Founder) read a series of newspaper articles written by Dr. George W. Crane announcing such headlines as "The Ocean's 44 Antidotes for Deficiency Ailments" and "Trace Chemicals Essential to the Body."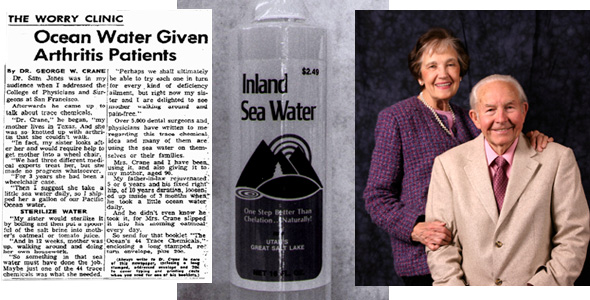 These articles piqued Hartley's interest with information about the amazing results people were receiving from drinking small amounts of seawater each day. This led him to research the Great Salt Lake, an inland sea located near his home. He discovered that not only did the Great Salt Lake contain the same minerals and balance discussed by Crane, but that it was more concentrated than regular sea water. Hartley knew there was a need for these minerals and thus, the idea for a company was born. Yet it was not until Hartley had tried the minerals himself and had witnessed powerful results from his friends and family that the company was established with initial product sales.
In 1968, he and his wife, Gaye, began selling Inland Sea Water™ to the public. A short time later, they discovered how to use nature's own processes to remove the sodium, thereby creating the Andersons' renowned liquid, low-sodium, mineral and trace mineral complex.
For over 45 years, the guiding mission of the Anderson family – founders of MRI – has never wavered -to improve global well being through mineral based nutrition from Utah's Great Salt Lake.
The family's philosophy continues to be that our pure, natural minerals capture the true essence and character of the pristine, untouched, beauty of the Great Salt Lake and the seasons. However, it is these elements that ultimately craft MRI's exceptional minerals into the products people consume each day for health and wellness.
The Andersons' mineral concentrates are produced using only natural methods. In essence, it is the minerals that, literally, craft themselves – without the use of artificial ingredients, preservatives, or minerals sourced from facilities other than those controlled by the Andersons.
It is a laborious process to concentrate and harvest the minerals – nearly two years before the minerals meet MRI's exact specifications for concentration, balance, purity, etc.
During this nearly two-year labor of love, MRI's minerals are fully tested and constantly monitored to meet the exacting standards specified in our Certificate of Analysis
MRI subjects the minerals to extensive testing according to U.S. Environmental Protection Agency approved methods
MRI tests the minerals at its in-house quality assurance laboratory as well as independent, third-party labs. Our minerals pass the U.S. Food Chemicals Codex standards for heavy metal safety
Our storage and packaging facilities operate using GMP standards.
MRI's minerals are GRAS – (Generally Recognized as Safe), meaning they've been verified by a panel of third-party, scientific experts who have concurred that the mineral blends harvested by Northshore; manufactured by MRI, meet the standards to be designated as GRAS.
At MRI, we take "all-natural" and quality seriously. We firmly believe our minerals "express" their origins – the Great Salt Lake – as well as the care and quality that go into each of our products.
Products that deliver results, quality, purity, integrity, knowledge, experience, these are just a few of the advantages you will find when you select MRI products for your next product innovation.

Quality
Quality assurance is integral to MRI. MRI and its employees are dedicated to providing quality products that meet and exceed the expectations of its valued customers.
Purity
The Anderson family harvests food-grade minerals and trace elements from the sapphire-blue waters of NorthShore, where the harvesting ponds are located on Utah's Great Salt Lake. The Anderson family goes to great lengths concentrating and harvesting through natural, time-tested methods to produce our famous all-natural, artificial-ingredient and preservative-free, food-grade mineral product.
Safety
MRI sets rigorous standards for each of its mineral products. We thoroughly test each lot of minerals at the company's in-house quality assurance laboratory as well as independent labs to ensure potency and purity. Our minerals pass the heavy metals safety test set for by the Food Chemicals Codex.
Innovation
MRI prides itself on their ability to provide innovative products in keeping with the company's mission to improve global well-being through mineral nutrition.
Reliable and Capable
MRI will work closely with your company to ensure you have the perfect solution from our natural source to suit your innovative application. Your partnership with MRI will be fully backed by supporting documentation including product specification sheets, a certificate of analysis, material safety data sheets, etc. MRI will provide you with valuable technical support and research demonstrating why mineral supplementation is so crucial for today's healthy lifestyle. Of course, we always welcome any questions you may have and will strive to provide you with the best product and customer support.

Gaye Laub Anderson is the co-founder of Mineral Resources International, Inc. She and her husband, Hartley, were the first to sell food grade mineral and trace mineral supplements using minerals harvested from Utah's Great Salt Lake. They first started in business in 1968. The inspiration for their idea and new business was a serial news column called "The Worry Clinic" written by Dr.George W. Crane, which advocated the health benefits of minerals and trace minerals found in sea water.
"Over 45 years ago, Hartley, my husband and sweetheart, and I embarked on a new and unexpected adventure selling Great-Salt-Lake-based mineral supplements," recalls Gaye. "At that time, nutrition was such a new concept that enriched bread—like Wonder Bread(R) —was considered health food. When people learned that we were selling mineral supplements from Utah's Great Salt Lake, we were greeted with skepticism and, at times, ridicule." Hartley and Gaye began selling their first product, Inland Sea Water® in health food stores across the U.S. in the late 1960's. In addition to launching and managing a new business with her husband, she raised a family of six sons and one daughter.  At the time of his passing, Hartley and Gaye had been married for 56 incredible years. Gaye remains an active contributor to MRI, and most days, you will find her at MRI's offices. She is still involved with MRI and serves as a board member. Gaye is a wonderful grandmother to 32 grandchildren and has 21 great-grandchildren and counting.
Bruce is the fifth son of Hartley and Gaye Anderson. Bruce developed leadership skills early in life. He became president of the trace mineral business in 1986 at age 22. He helped grow the family of businesses from ten employees to over fifty at times. Bruce has also served as president of MRI the majority of the time since its inception. While serving in a leadership capacity, Bruce has traveled extensively domestically and internationally, meeting with customers and giving inspirational lectures to large audiences. He has worked with all aspects of the company such as marketing, production, quality, accounting, finance, business development, and legal.
Bruce was elected Weber County Commissioner in 1995 and served for four years. He has served on more than 16 government, community, or company boards. Further, Bruce was elected as Chairman of the Weber County Commission, Chairman of the Weber Area Council of Governments, Vice-Chairman of the Wasatch Front Regional Council, and Treasurer of the Rocky Mountain Nutritional Foods Association. Bruce speaks fluent Spanish and enjoys conversing with several Spanish-speaking employees.
MRI has seen great success internationally, working with MRI's partners selling MRI's products via network marketing. Recently, Bruce has worked to develop a new division of MRI, Ionique, which sells MRI products via network marketing. Bruce Anderson has been married for 32 years to Susan, has six children and 3 granddaughters. He enjoys skiing, camping, the outdoors, and being involved in the political process. Bruce has volunteered for many years in the Boy Scouts and other community programs.
Rhonda Anderson Lauritzen is the Executive Vice President of Mineral Resources International, and is the youngest child of Hartley and Gaye Anderson. She grew up in the family business, attending trade shows as a young child then working production in junior high and in the office as a teenager. She completed her undergraduate work at Weber State University while working as General Manager, and also finished a graduate paralegal program from the University of San Diego. She got her MBA from the University of Utah and then returned for a stint as CEO. During that time, one of her proudest accomplishments was working on the team that launched the elete electrolyte brand. But getting along with a big family is sometimes stressful, so Rhonda ventured out on her own for a number of years. During that time she was successful in serving as Marketing Director and Vice President for Student Services at the Ogden-Weber Technical College. In 2012 she published the MRI family business saga, Every Essential Element. That experience was so transformative she began helping other people write their life stories. The Anderson family mission was never far from her heart, however, and she returned in 2019. "It just feels right to be home," she says.